Welcome!






FIRST PRESBYTERIAN CHURCH of JOHNSTOWN


37 South Market St., Johnstown, New York 12095
Handicap access via Clinton Street entrance — elevator available
Phone: (518) 762-8263 — Fax: (518) 762-2981

OFFICE HOURS
The office will be open every Monday from 9am until noon and on Thursdays from 9am until 2pm. Please either call the office and leave a message (518-762-8263) or email the office at office@johnstownpresbyterian.org with any news for the weekly mailing or any questions/concerns you may have.
Should you need to talk to a minister, please contact
Tom Ruehle, Clerk of the Session, at 518-844-3872.
He will connect you with the minister assisting us as we complete the search for our new pastor.

Email for Office: office@johnstownpresbyterian.org
"Like Us" on Facebook: @johnstownfirstpresbyterian




WORSHIP IN THE SANCTUARY OR ON ZOOM
at 10:30AM
We will continue to hear the Word of God from several guest preachers from our area while the PNC continues its work.
The Rev. R.W. Williams will lead worship on October 1.
CLICK THIS LINK for ZOOM worship (*a new link*)
or watch the Church Service on our Facebook page.



CLICK HERE to download the bulletin.

In case of inclement weather, the closing of church or other activities
will be announced on WENT (1340AM) or on the church answering machine 518-762-8263

PODCAST WORSHIP
The weekly Podcasts will continue with a half hour of worship that you may listen to at a time of your choosing. CLICK HERE for links to the podcasts.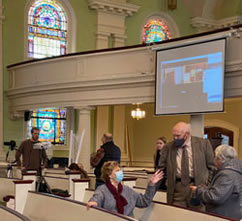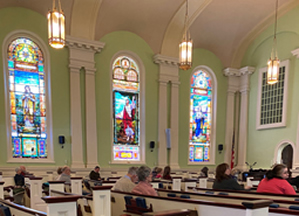 Members of the congregation visit before the service.