Welcome!


FIRST PRESBYTERIAN CHURCH of JOHNSTOWN




37 South Market St., Johnstown, New York 12095

Handicap access via Clinton Street entrance — elevator available
Phone: (518) 762-8263 — Fax: (518) 762-2981
Interim Pastor G. W. Blake Blakesley

If you have an immediate need,
call Pastor Blake on his cell phone at 267-994-6758.
OFFICE HOURS
Pastor Blake will be in the office 9am-2pm Monday-Thursday
Our office administrator Dawn will be in the office Thursdays 10am-2 pm

Email for Pastor Blake: pastor@johnstownpresbyterian.org
Email for Office: office@johnstownpresbyterian.org
"Like Us" on Facebook: @johnstownfirstpresbyterian




ZOOM WORSHIP & WORSHIP in the SANCTUARY
at 10:30AM
Join us for the first Sunday of Advent. We will light the candle of "HOPE." We will also worship using ZOOM on-line.
If you do not ZOOM, you may come and be with us in the sanctuary, continuing to follow the NY state Covid-19 guidelines.
Here is the link for you to join us.
CLICK THIS LINK for ZOOM worship
or
Call this number on your phone: 646-558-8656
Then enter the meeting ID: 862 5702 9475
CLICK HERE to download the bulletin for this week's service.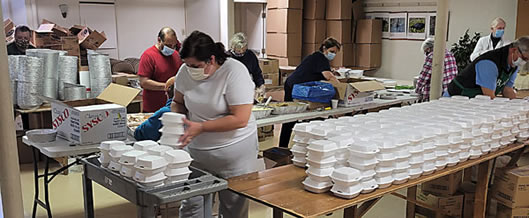 THANKSGIVING PREPARATIONS
Volunteers prepared meals in the Church kitchen and Fellowship Hall for delivery on Thanksgiving Day. They will be delivered to people in Fulton and Montgomery County. We had many, many volunteers and prepared more than 3000 meals! CLICK HERE to see more images.
HYMN SING & HOLIDAY DECORATING OF SANCTUARY
Sunday, November 21, we will start worship with a hymn sing. Choose your favorite hymns from the hymnal or from the supplemental songbook and we will all make a joyful noise to the Lord.
After worship please stay to help decorate the sanctuary for Advent.

PODCAST WORSHIP
The weekly Podcasts will continue with a half hour of worship that you may listen to at a time of your choosing. These will be posted every Thursday. CLICK HERE for links to the podcasts.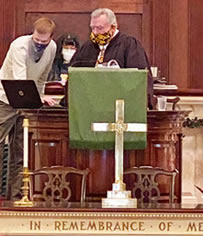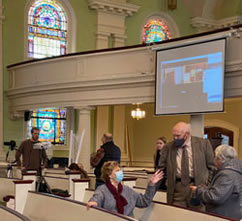 Brett & Pastor Blake prepare for Zoom worship
while people in the Sanctuary visit with one another

In case of inclement weather, the closing of church or other activities
will be announced on WENT (1340AM) or on the church answering machine 518-762-8263