Welcome!!!
FIRST PRESBYTERIAN CHURCH of JOHNSTOWN
37 South Market St., Johnstown, New York 12095

The Reverend Leonard Sponaugle, Pastor
Phone: (518) 762-8263
Fax: (518) 762-2981
Email: jntnpresby@yahoo.com

WORSHIP begins at 10:30 A.M.
Church School and Youth Group meet September—Mid June
Handicap access via Clinton Street entrance — elevator available

In case of inclement weather, the closing of church or other activities
will be announced on WENT (1340AM) or on the church answering machine
(762-8263)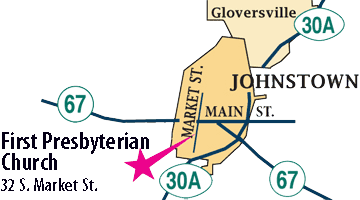 Jeremiah 29:1113
"For surely I know the plans I have for you, says the Lord, plans for your welfare and not for harm, to give you a future with hope. Then when you call upon me and come and pray to me, I will hear you. When you search for me, you will find me, if you seek me with all your heart"
The Session has been considering the organizational structure of the church. During the deliberations they came to the conclusion that the Moving Forward Team has finished their work. They have given us this gift:
1) Reach out into the community and actively engage people outside our doors.
2) Foster a feeling of community among our congregation.
3) Develop a more spirited atmosphere in worship services that might be more meaningful to younger generations and those not familiar with our services.
Those foci are the way forward for us.

Please take the time to personally thank each member of the team: Betsy Camarra, Ruth Carey, Ron Chizek, Ron Custer, Jim Hinkle, Linda Hinkle, Trish Kilburn, Carol Larter, Laura Ruehle, Ashley Ruehle, and Jane Smith. They have spent countless hours thinking, reading, talking, researching, and praying.

In addition to that conclusion and action, the Session has created a new committee structure:
1) Administration, Finance, Personnel - two Elders on this committee
2) Buildings & Grounds
3) Christian Education, Spiritual Development
4) Deacons responsible for congregational care and fellowship
5) Nominating, Stewardship
6) Mission, Outreach, Youth - two Elders on this committee
7) Music, Worship will pick up the worship responsibilities now being fulfilled by the Deacons
8) Technology - not filled until 2016

This is a significant shift in how we are organized. I want to point out three important things: It covers all the functional areas in the church. It will require each Ruling Elder to gather a group from the congregation to fulfill their committee's role, rather than relying mostly on having two Elders on the committee. It recognizes the Deacon's historical and Biblical role as caregivers in the church.

So much of the activity in a church is unseen until it is finished. Rest assured the leadership in its various forms is diligently doing the work to move us forward as faithful disciples of Jesus.


Faithfully,
Leonard