PASTOR'S PONDERINGS
John 14:15-17, 25-26: 15 "If you love me, you will keep my commandments. 16 And I will ask the Father, and he will give you another Advocate, to be with you forever.17 This is the Spirit of truth, whom the world cannot receive, because it neither sees him nor knows him. You know him, because he abides with you, and he will be in you. 25 "I have said these things to you while I am still with you. 26 But the Advocate, the Holy Spirit, whom the Father will send in my name, will teach you everything, and remind you of all that I have said to you.
Dear F.P.C. Family,
It is possible to treat an old dog new tricks. Well, I hope it is possible to treat a middle-aged-man better tricks? Personally I have been thinking about the Holy Spirit in a focused and deliberate way. I want to tell you about this.
The Holy Spirit is the third member of the Trinity and the one we Presbyterians give little attention. We Presbyterians lean towards God, then Jesus and finally the Holy Spirit. Seriously, often when a group of Presbyterians pastors talk about Pentecost we complain about how little we have to say. (Pentecost is when the early disciples of Jesus received the Holy Spirit.) We Reformed folk tend to be intellectual so it is not surprising that we more easily talk about and focus on God. Here is a way to notice this: Think about our Sunday worship and count up the number of times we say God, Jesus Christ and Holy Spirit. We refer to God the most than Jesus and least of all the Spirit.
I have become convinced personally and professionally that it will be helpful to us to speak and think of the Holy Spirit more. In my personal prayers I am disciplining myself to pray to the Holy Spirit as much as I pray to God or Jesus. True confession, It is hard for me to break my well established practice. Don't worry I am not going Pentecostal, (No rolling in the aisles or speaking in tongues is to be anticipated.) but there is value to be found in a shift in emphasis. I will have more to say about this on Pentecost Sunday.
Faithfully,
Leonard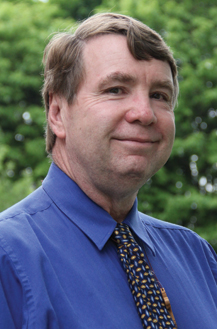 ---