PASTOR'S PONDERINGS
Revelation 21:1— "'Then I saw a new heaven and a new earth; for the first heaven and the first earth had passed away, and the sea was no more. And I saw the holy city, the new Jerusalem, coming down out of heaven from God, prepared as a bride adorned for her husband. And I heard a loud voice from the throne saying,
"See, the home of God is among mortals.
He will dwell with them; they will be his peoples, and God himself will be with them."

Dear F.P.C. Family,

In our Adult Education class, we have been studying The Great Emergence. That is the name given to an overarching theory about the current state of our faith. It is natural to be swept up by the details in life. I, like all of you, go from one thing to the next. For example, in between visits to nursing homes, I have played phone tag with the advertising representatives of the two papers we run ads in. It is so easy not to see the big picture, to say nothing of an overarching theory.
The Great Emergence is based on the observation that about every 500 years dramatic change occurs: 500 years ago, the Reformation, 1000 years ago the split between Rome and Constantinople, 1500 years ago the collapse of the Roman Empire, 2000 years ago the birth of Christianity. According to the theory, the events of 911 began another upheaval. In all of these periods of turmoil, the first thing that goes and then has to be reestablished is authority. In the Reformation, the authority of the Papacy or Roman Catholic church was replaced by the power of individuals reading the Bible. Now because of legitimate scientific challenges to our scripture and faithful Biblical scholarship we have left behind a literal, pre-scientific view of the Bible. And the powerful, useful and effective authority that came with it. We are in the midst of reestablishing how we hold to our faith.
It is scary! But by seeing that we have gone through this before (every 500 years or so) provides comfort. Change is hard; but it is not ruinous. The Jesus Way is going to be fine.
In the 21st chapter of the Book of Revelation our future is described. Eventually all will be well, and God will dwell among us. In the midst of a period of great change, or, if you will, in the meantime, let us cling with hope to the God who loves us.
Faithfully,
Leonard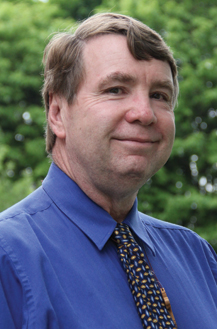 ---